I have decided to start doing group book reviews to lessen the amount of purely book review posts that go up on my blog. I will still be doing single book review posts, but these will generally be the ones that I either really loved, had a lot to say about or really disliked!
Brood – Chase Novak
Series: Sort of a sequel to Breed
Published: 2014, Mulholland Books
Genres: Horror
Pages: 320
Format: Paperback
Source: Review Copy
Two teenagers struggle with a horrific family legacy, and the woman who has adopted them fights for their lives–and her own.
When I read this, I hadn't realised that there was a previous book named Breed. The two books don't follow on from each other directly (by the sounds of it), but they do link together. That said, reading Brood as a standalone was fine, and I didn't feel totally lost – from the beginning we were told about what had happened. Brood was strange.
Adam and Alice are desperately trying to avoid puberty, knowing that the change in their bodies will turn them into animals. It was such a weird concept for me, but something that did get my attention. You see the twins fighting with themselves, trying to live normally but struggling to contain their true nature. I enjoyed the writing, but it did take me a while to get through and I can't say I really, really loved it! I think the concept was weird enough that it kept me hooked.
My Rating – To see my book review rating guide click here.

————————————————————————————-
Alice and the Fly – James Rice
Series: Sort of a sequel to Breed
Published: 2015, Hodder & Stoughton
Genres: YA
Pages: 323
Format: Paperback
Source: Review Copy
This is a book about phobias and obsessions, isolation and dark corners. It's about families, friendships, and carefully preserved secrets. But above everything else it's about love. Finding love – in any of its forms – and nurturing it.
I wanted to like this, I really did. Apparently the first chapter won a prize and I can totally see why. In the beginning, I was real interested, but I just felt like after a quarter of the book it slowed down considerably and stayed slow for the rest of the story. The use of 'Them' for Greg's biggest fear was great, and I liked how it wasn't immediately obvious what 'Them' was. We're told the story from Greg's point of view in a diary format. He's lonely and isolated, and it's interesting to see how he views everything around him. At a point in the story, you realise that something bad has happened, and we get snippets of interviews that his family/friends/acquaintances have given. The ending to me was obvious from a certain point, but I was unsure about how it would end. I think I could have given this book more stars if it just moved a little faster.
My Rating – To see my book review rating guide click here.

————————————————————————————-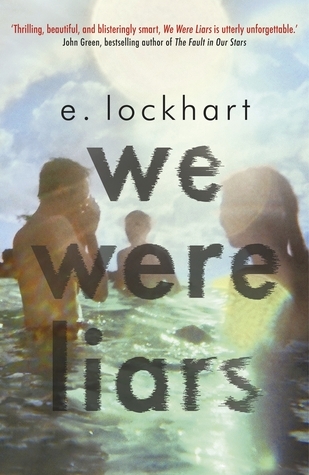 We Were Liars – E. Lockhart
Series: n/a
Published: 2014, Hot Key Books
Genres: YA
Pages: 227
Format: Paperback
Source: Bought
We are the Liars. We are beautiful, privileged and live a life of carefree luxury.
We are cracked and broken. A story of love and romance. A tale of tragedy.
Which are lies? Which is truth?
This book was so hyped up that I ended up being a little disappointed. My main problem was that I just couldn't connect to any of the characters.
Cady is a Sinclair – a rich family with their own private island. Cady, two of her cousins, and a friend call themselves The Liars. They visit every summer, but after an accident, Cady suffers from amnesia and doesn't return the next summer. We see her return to the island after a couple of years away and follow her as she tries to piece the accident together.
Now I've seen a a few reviews with people saying that they guessed the ending, but I certainly didn't. I do think it was a great twist, and I'm not sure whether it was hidden well, or whether I just missed it because I couldn't connect to the story. I'm struggling to say any more on what I thought about this book because it was just 'okay' for me.
My Rating – To see my book review rating guide click here.

————————————————————————————-