Dream A Little Dream – Giovanna Fletcher
Series: N/A
Published: 2015, Penguin
Genres: Romance
Pages: 400
Format: Paperback
Source: Bought
Sarah is doing just fine. Sure she's been single for the last five years, and has to spend an uncomfortable amount of time around her ex-boyfriend, his perfect new girlfriend and all their mutual friends. And yes, her job as a PA to one of the most disgusting men in London is mind-numbingly tedious and her career is a constant disappointment to her mother. But it's really okay. She's happy (ish). But it's not surprising that when Sarah starts dreaming about a handsome stranger, she begins to look forward to falling asleep every night. Reality isn't nearly as exciting. That is until her dream-stranger makes an unexpected real-life appearance, leaving Sarah questioning everything she thought she wanted. Because no one ever really finds the person of their dreams… do they?
My Thoughts:
When Giovanna brought out her first book, I was impressed. When the second book came out, it was even better. This third book? Well, this third book just trumps everything!
The whole premise of this story intrigued me, and actually I wasn't quite expecting it to be what it was. There's obviously romance, but I think this story had so much more than that. Having been through a bad patch, Sarah was still putting herself back together and you can imagine how difficult that is with your ex being in your friends group… I thought the dynamic of the group worked really well, and honestly it just made me wish I had a close group of friends like that here! Each person had their own role, and whilst we didn't get to really know each person, the few 'important' ones had great personality and fit well into Sarah's current life. It was quite refreshing actually to have a romance book that didn't really have easy romance. Friendships and relationships were difficult at times, and went through all the usual things, rather than immediately being love-at-first-sight happy relationships.
Seriously though I loved Sarah, I loved her friends and I loved Brett. Dream a Little Dream is not one to miss! Giovanna's books just keep getting better and better. I'm desperately hoping Sarah's story is carried on! 5/5
————————————————————-
Still Alice – Lisa Genova
Series: N/A
Published: 2012, Simon & Schuster (Originally 2007)
Genres: Contemporary
Pages: 351
Format: Paperback
Source: Bought
Alice Howland is proud of the life she worked so hard to build. A Harvard professor, she has a successful husband and three grown children. She soon finds herself in the rapidly downward spiral of Alzheimer's Disease. Her short-term memory may be hanging on by a couple of frayed threads, but she is still Alice.
My Thoughts:
Okay, this was a slow read for me. Whilst I thought the story line was really interesting, the writing just didn't 'excite' me. To tell the truth, it felt a bit of a slog to read through. As I said, the story itself was interesting – Alice was a very intelligent woman, lecturing at Harvard and writing and publishing reports before suddenly being struck with early onset Alzheimers. Of course it didn't just come on suddenly, but little times of forgetfulness are easily ignored. It really shakes up Alice's world, and everything changes. Her family is struggling to cope, and everything just feels like it's falling apart. Like I said, it definitely has potential. I just don't think the writing worked for me as it was just a little slow. That said, I understand that this novel was Lisa's first, and she self-published. I do have a later edition, after Simon & Schuster bought it, so I'm not sure whether my copy has been edited or whether it was left as the original. I would recommend this book if early-onset Alzheimers is something you're interested in reading about, but just be warned of the slow pace! 3/5
————————————————————-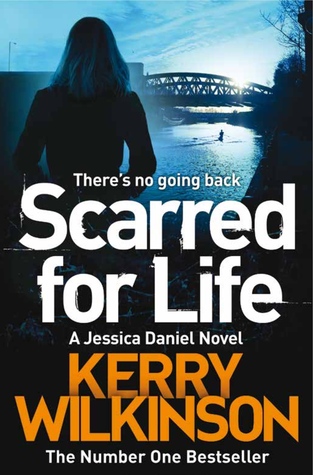 Scarred for Life – Kerry Wilkinson
Series: Jessica Daniels
Published: 2015, Pan Macmillan
Genres: Mystery/Crime
Pages: 300
Format: Paperback
Source: Review Copy
DI Jessica Daniel is not having a good week. Her wallet's been nicked, the refurbished incident room is already falling apart, and a new football-mad constable is driving her crazy. She also has bigger things on her mind. A student's body has been dumped in a wheelie bin at the back of a university building, with a vague link to an Olympic medallist and a theory that it could have been an induction which went wrong. There's the tattooed shop raider who has her team stumped; someone attacking lone women; a chief inspector who seems to have a problem with her; and someone putting letters through her front door insisting that she's caught 'the wrong man'. Worlds are colliding for Jessica – and, if she's not careful, someone close to her might not make it out in one piece.
My Thoughts:
I loved this book! When I first started reading, I actually wasn't so sure about it and didn't read past the third chapter. A couple of days later (yesterday!) I picked it up again after waking up and finished it that morning. I was completely hooked.
This has all the makings of a generic crime book – your main character (usually somewhere in the middle of the hierarchy), their partner, the big bosses and the criminals. There's usually always one main crime that has happened, and then a few random ones dotted about throughout. So yeah, so far it's just a generic crime story. Once you start reading though, you discover so many different layers to each crime. I did guess a few, and knew immediately what was going on, but for the majority of the story I was looking at the clues and linking new things just as Jessica was. Actually, she beat me to the main crime – I didn't guess that one right! I just felt like I was constantly being kept on my toes. The ending though… Oh my. I couldn't believe it. I actually re-read it to make sure I wasn't dreaming. Unexpected to say the least!
I loved this book so much that I jumped straight onto Amazon and sent the first 3 books of this series to my kindle… Scarred for Life is number 9, and I've decided I need to read from the beginning! 5/5