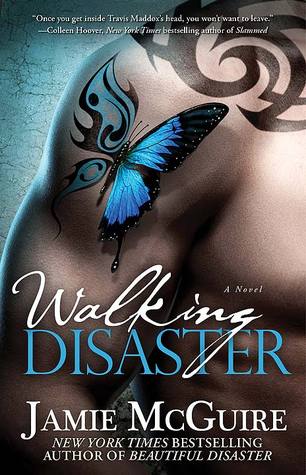 – Jamie McGuire
Summary:
Can you love someone too much?
Travis Maddox learned two things from his mother before she died: Love hard. Fight harder. In Walking Disaster, the life of Travis is full of fast women, underground gambling, and violence. But just when he thinks he is invincible, Abby Abernathy brings him to his knees. Every story has two sides. In Beautiful Disaster, Abby had her say. Now it's time to see the story through Travis's eyes.

My thoughts:
I read Beautiful Disaster earlier this year, and did a mini review on it here. When I picked up Walking Disaster, I hadn't realised that it wasn't actually a sequel – it was just the same story but from Travis' point of view.
Now, you know a book is brilliant when you get completely drawn in, despite already reading it previously. Of course, there were quite a few differences between the Beautiful Disaster and Walking Disaster, the main being the different POV of course, but they had the same base storyline. We do however get to see different scenes when Travis and Abby are apart, and we also get to see how both characters react to certain situations. You go through every emotion physically possible between the two books.
In Walking Distaster, I really enjoyed learning more about Travis and his family. It really was great to see things from Travis' point of view – the hurtful things that he does to Abby don't seem as bad. I mean, yes they are bad, but we see his reasoning behind doing them and we see just how upset he gets.
I'm struggling here – I don't want to completely ruin the book if you haven't read it. All I can add to this review is that yes, you should just go out and buy it! When reading, I became so emotionally invested in Travis and Abby. It made me cry, again, though I guess maybe for different reasons this time! It was also nice to read from a teenage boy's point of view as I don't seem to read that often!
My Rating – To see my book review rating guide click here.