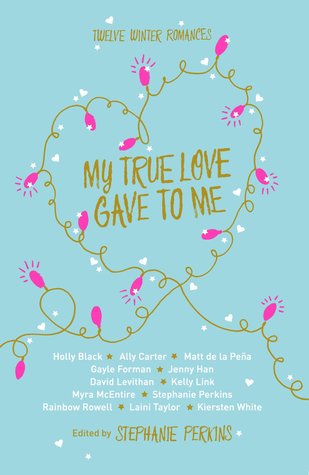 My True Love Gave To Me – Edited by Stephanie Perkins
Authors: Holly Black, Ally Carter, Matt de la Pena, Gayle Forman, Jenny Han, David Levithan, Kelly Link , Myra McEntire, Rainbow Rowell, Laini Taylor, Kiersten White.
Series: n/a
Published: 2014, Macmillan Children's Books
Genres: YA, Anthology
Pages: 355
Format: Hardback
Source: Bought
Summary:
On the first day of Christmas, my true love gave to me …This beautiful collection features twelve gorgeously romantic stories set during the festive period, by some of the most talented and exciting YA authors writing today. The stories are filled with the magic of first love and the magic of the holidays.

A Christmas book. Yep. This anthology has 12 stories, and I bought it with the intention of reading each story on the actual 12 days of Christmas. I managed it, sort of. Some days I forgot and had to read two, or three, the next day. I've seen people asking online whether they read it in sequence, or headed straight to their favourite authors – I read the stories in order. I figured there must have been a reason for it… But I'm not so sure after reading. They didn't seem to be, but who knows!
A major plus, I think, is that the stories are so diverse. We have characters from all kinds of backgrounds, be that different races, classes or even magical worlds… I've never read anything like this from YA, so I was intrigued and couldn't not pick it up. Overall, I wasn't disappointed, although of course there are going to be stories you don't like when there's 12! A few of them I just didn't want to end, and I'd love to read a follow on story! I think I'd have to say that Midnights and It's A Yuletide Miracle, Charlie Brown were the top favourites!
Ones that I loved:
Midnights – Rainbow Rowell
Angels in the Snow – Matt De La Pena
Polaris Is Where You'll Find Me – Jenny Han
It's A Yuletide Miracle, Charlie Brown – Stephanie Perkins
What The Hell Have You Done, Sophie Roth – Gayle Forman
Welcome To Christmas, CA – Kiersten White
Ones that were just okay:
Your Temporary Santa – David Levithan
Beer Buckets And Baby Jesus – Myra McEntire
Star Of Bethlehem – Ally Carter
The Girl Who Woke The Dreamer – Laini Taylor
Ones I just didn't really get:
The Lady and the Fox – Kelly Link
Krampuslauf – Holly Black
The ones that I loved, I really did. They were cute and funny, and made me feel all warm inside. The ones that were okay, I just didn't really click with. The ones that I just didn't really get… well, yeah, I just didn't get into the story at all. This book is one that I imagine I will pick up at Christmas and just read my favourites. I don't think I would read all of the stories in sequence again! I gave it four stars because I did like 10 out of the 12, and 6 of them I really loved. I think that's a pretty good statistic!
My Rating – To see my book review rating guide click here.