My review of The Maze Runner can be found here.
The Scorch Trials – James Dashner
Series: The Maze Runner
Published: 2013, Chicken house (first published in 2010)
Genres: YA/Dystopian
Pages: 359
Format: Paperback
Source: Bought

Solving the Maze was supposed to be the end. No more puzzles. No more variables. And no more running. Thomas was sure that escape meant he and the Gladers would get their lives back. But no one really knew what sort of life they were going back to.
The Gladers are far from finished with running. Instead of freedom, they find themselves faced with another trial. They must cross the Scorch, the most burned-out section of the world, and arrive at a safe haven in two weeks. And WICKED has made sure to adjust the variables and stack the odds against them.
My Thoughts:
This book was just one big journey of survival and betrayal. I think the book did feel a bit of a filler, but that was because we didn't really get much new information. The majority of the story was focused on the gladers surviving in the 'scorch', and although we pick up some bits throughout, it isn't much! This kind of reflects on how the gladers feel though – they don't really get much information either!
In any other book, the lack of information for the reader would bug me, but I do think it works with this series. Same for the characters – they aren't hugely developed in regards to background. We still don't really know anything about where most of the main characters are from, or what brought them to be in this situation. 3/5
————————————————————————————————————————————–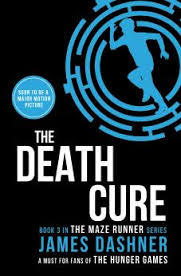 The Death Cure – James Dashner
Series: The Maze Runner
Published: 2013, Chicken house (first published in 2011)
Genres: YA/Dystopian
Pages: 327
Format: Paperback
Source: Bought
Thomas knows that Wicked can't be trusted, but they say the time for lies is over, that they've collected all they can from the Trials and now must rely on the Gladers, with full memories restored, to help them with their ultimate mission. It's up to the Gladers to complete the blueprint for the cure to the Flare with a final voluntary test.
What Wicked doesn't know is that something's happened that no Trial or Variable could have foreseen. Thomas has remembered far more than they think. And he knows that he can't believe a word of what Wicked says. The time for lies is over. But the truth is more dangerous than Thomas could ever imagine. Will anyone survive the Death Cure?

My Thoughts:
I made the terrible mistake of reading this and then not writing down my thoughts at the end, and I finished this almost two weeks ago now. Oops!
So yeah, this is going to be a bit of a cop out, but I gave it 4 stars so I must have liked it! I honestly can't remember what happened, and reading The Kill Order straight after has kind of messed my brain up a little so I'm going to have to read a wiki to jog my memory…
Okay so yeah, most of the group get their memories back, but some don't. They travel to a big town, and lots of things happen and there's some movement against WICKED and yeah… My favourite character had to be Minho. I kind of lost interest for the rest. I'm wondering whether to change my rating now, but I clearly did enjoy it straight after reading! #badreview #sorry 4/5
————————————————————————————————————————————–
The Kill Order – James Dashner
Series: The Giver Quartet
Published: 2013, Chicken House (First published 2012)
Genres: YA/Dystopian
Pages: 331
Format: Paperback
Source: Bought

Before WICKED was formed, before the Glade was built, before Thomas entered the Maze, sun flares hit the earth and mankind fell to disease. Mark and Trina were there when it happened, and they survived. But surviving the sun flares was easy compared to what came next. Now a disease of rage and lunacy races across the eastern United States, and there's something suspicious about its origin. Worse yet, it's mutating, and all evidence suggests that it will bring humanity to its knees. Mark and Trina are convinced there's a way to save those left living from descending into madness. And they're determined to find it—if they can stay alive. Because in this new, devastated world, every life has a price. And to some, you're worth more dead than alive.

My Thoughts:
Okay so I liked this book, but only just. Whilst it was interesting to read about how everything came about, I just couldn't connect to any of the characters. I'm wondering now if James Dashner really is that great of a writer, because these characters didn't really have any background or development. It worked for me in the other books due to the storyline, but with this one I just wanted more.
This is a prequel, but I would definitely read it last as I did. There are some spoilers so it would probably ruin the main three books for you! 2/5