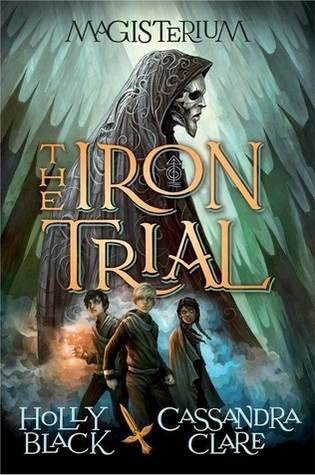 The Iron Trial – Holly Black & Cassandra Clare
Series: Magisterium
Published: 2014, Scholastic Press
Genres: Fantasy
Pages: 299
Format: Hardback
Source: Gifted
Most kids would do anything to pass the Iron Trial. Not Callum Hunt. He wants to fail.
All his life, Call has been warned by his father to stay away from magic. If he succeeds at the Iron Trial and is admitted into the Magisterium, he is sure it can only mean bad things for him. So he tries his best to do his worst – and fails at failing.
Now the Magisterium awaits him. It's a place that's both sensational and sinister, with dark ties to his past and a twisty path to his future. The Iron Trial is just the beginning, for the biggest test is still to come . . .
My Thoughts:
When this came out, I saw lots of people comparing it to Harry Potter, and others defending it saying there were no comparisons. Well, I can see what people meant. I mean, Callum is described as having black hair and is scrawny. He lost a parent because of dark magic, and as a result he has a bad leg. Something that makes him stick out. His two main friends were a boy and a girl. The big difference however is the whole style of magic. It's very much about the elements, whereas J.K. Rowling never put a focus on that. The day-to-day life was completely different, and I did enjoy reading the different training that the kids went through and learning about it with them. The similarities are there, but it was something I could deal with. Once I'd gotten into the story, I stopped picking up on similarities and focused on the characters. I particularly liked Aaron, and I'm glad that he took the main 'thing' on, rather than Callum. It was a nice change to see a supporting character being so integral to the plot. I'm not really sure where this series will go, and it's possibly a little young for me, but I still enjoyed it and would carry on with the series. I think this is the perfect book for those in high school (11-16 sort of age). 3/5
————————————————————-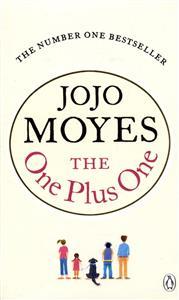 The One Plus One – Jojo Moyes
Series: N/A
Published: 2014, Penguin
Genres: Contemporary/Romance
Pages: 537
Format: Paperback
Source: Bought
One single mum. With two jobs and two children, Jess Thomas does her best day after day. But it's hard on your own. And sometimes you take risks you shouldn't. Because you have to…
One chaotic family. Jess' gifted, quirky daughter Tanzie is brilliant with numbers, but without a helping hand she'll never get the chance to shine. And Nicky, Jess' teenage stepson, can't fight the bullies alone. Sometimes Jess feels like they're sinking…
One handsome stranger. Into their lives comes Ed Nicholls, a man whose life is in chaos, and who is running from a deeply uncertain future. But he has time on his hands. He knows what it's like to be lonely. And he wants to help…
One unexpected love story. The One Plus One is a captivating and unconventional romance from Jojo Moyes about two lost souls meeting in the most unlikely circumstances.
My Thoughts:
Okay, I loved this. The One Plus One is huge, and I was expecting it to take a while to read – I managed to read the last 300 and so pages one morning before heading into work! This book is told from a few different points of view. It is mainly Jess, but then Ed gets quite a bit and Tanzie and Nicky get a few chapters (if I remember correctly!) I really felt empathy for Jess, and I loved her voice in the story. Her parts were definitely more interesting than Ed's to begin with, but that's because his parts were all about his work. Important to the story, but I did get a little bored with him. His parts definitely got more interesting though as the story went on, and I loved seeing both sides. Both main characters were likeable, even when they made bad decisions.
Throughout reading this, I laughed, I smiled, I cried, I cried and I cried some more. Honestly, I don't know why but I cried so much through the last 300 pages. I just felt everything they were going through, and I wanted everything to work out. Not a bad thing by all means – I love crying at books! Maybe a little strange.
I took The One Plus One home and gave it straight to my mum to read. Definitely recommend it! 5/5
————————————————————-
Every Day – David Levithan
Series: Every Day
Published: 2013, Electric Monkey
Genres: Contemporary/YA
Pages: 372
Format: Paperback
Source: Bought
Each morning, A wakes up in a different body. There's never any warning about who it will be, but A is used to that. Never get too attached. Avoid being noticed. Do not interfere. And that's fine – until A wakes up in the body of Justin and meets Justin's girlfriend, Rhiannon. From that moment, the rules by which A has been living no longer apply.
My Thoughts:
Every Day was a weird one. Really weird. A is transported into a different person every day. I've never read anything like this before, and I thought the concept was great. How weird would it be to wake up as someone new each day? Having to fit in with their family/friends, feeling their emotions and struggles, experiencing both genders… I loved the idea! David Levithan is a brilliant writer, and I really loved how we saw so many different people throughout Every Day, yet the narration had the same personality – we saw A change to fit each life they possessed, yet they still stayed the same person inside and everything flowed really well. Add in a love interest, and this story gets real interesting. The only downside for me was the ending… I mean, it was brilliant, and I like how everything was tied off, but it just wasn't the ending I was expecting. It was real, and I guess I was too caught up in the magic to this person transporting into different bodies! It definitely seemed like a sequel could be written though… I would love to see what happens next. (And I just checked and there is a second book expected to be published this year! Not quite what I wanted, as it's Rhiannon's POV, but I'm sure it will be great!) 4/5