– Gayle Forman
Summary:
In the blink of an eye everything changes. Seventeen ­year-old Mia has no memory of the accident; she can only recall what happened afterwards, watching her own damaged body being taken from the wreck. Little by little she struggles to put together the pieces- to figure out what she has lost, what she has left, and the very difficult choice she must make. Heartwrenchingly beautiful, Mia's story will stay with you for a long, long time.

My thoughts:
I can't say I was completely hooked, but I still enjoyed this story and actually read it in around 5 hours one night. (I didn't expect it to be so short either!) I think it was just hyped up far more than it's worth. So we're with Mia, and we follow her as she sort of has an out of body experience. Her family have been in an accident, and we see her as she puts everything together, even seeing herself as she is passed through the hospital. I thought it was done really well, and was definitely heartbreaking at times. I could definitely feel like I was with Mia and going through what she was. I think the story sort of raises a lot of questions, and it definitely made me think about what would happen if I were in that situation. I'm just hoping that the film does it justice!
My Rating – To see my book review rating guide click here.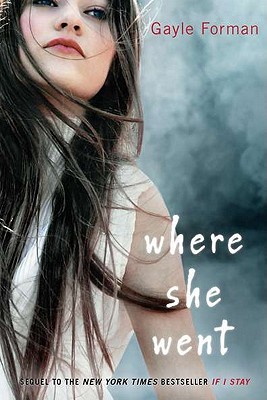 Summary:
It's been three years since Mia walked out of Adam's life. And three years he's spent wondering why.
When their paths cross again in New York City, Adam and Mia are brought back together for one life-changing night.
Adam finally has the opportunity to ask Mia the questions that have been haunting him. But will a few hours in this magical city be enough to lay their past to rest, for good – or can you really have a second chance at first love?

My thoughts:
This one was very different, and I was actually really shocked at how different it was written. In Where She Went we're seeing everything from Adam's point of view, only it is 3 years after the accident, and 3 years since he's seen Mia. Adam is a rockstar, but not everything is perfect. I really loved seeing how he was dealing with things, including living his musical dream with his band. Yeah, I don't really know what else to say besides it really was just full of teenage angst. I felt sorry for Adam but then I also thought that he really wasn't helping himself. You know when you just want to give someone a kick? Yeah. Where She Went was bittersweet.
My Rating – To see my book review rating guide click here.