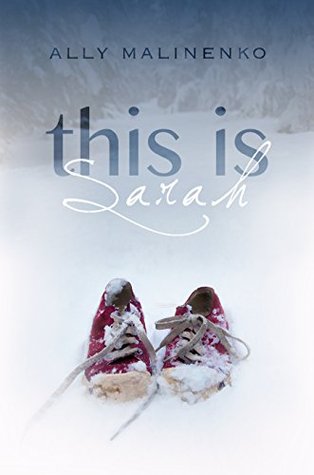 This Is Sarah – Ally Malinenko
Series: n/a
Published: July 3rd 2014, BookFish Books
Genres: YA
Pages: 169
Format: Ebook
Source: Review Copy
*Thanks to Ally Malinenko for sending me a copy to review!
Summary:
When Colin Leventhal leaned out his bedroom window on the night of May 12th and said goodbye to his girlfriend, he never expected it would be forever. But when Sarah Evans goes missing that night, Colin's world unravels as he transforms from the boyfriend next door to the main police suspect. Then one year later, at her memorial service, Colin makes a phone call that could change everything. Is it possible that Sarah is still alive? And if so, how far will he go to bring her back?

The Good:
+ I really liked how the story focused on everyone moving on, rather than focusing on the missing girl. It was great, but also kind of heartbreaking to see how differently people may cope with a loss, and I thought it did that really well.
+ I could totally understand Colin's reactions and thought processes. Yes, I haven't been through anything exactly like this myself, but the story made me feel like I had. I just felt like it was real – always a good thing in a book!
+ I did actually like the dual perspective overall. It was good to get the story from two different sides, as obviously the two characters reacted differently.
+ Was happy with the 'twist', even though I suspected it would be something like that… Yeah, I thought it worked.
The Bad:
+ I had read a review previously and knew that there was a dual perspective, but I completely forgot when I picked up the book and was got confused when the perspective changed. As the review said, (sorry I can't remember who wrote it!) always read the chapter titles! Anyway yeah, I think the voices could have been better – they weren't obviously different. Once you knew the person though, and had a better idea of what they would do, it was a lot clearer. That sounds like I contradicted myself but you know, it just wasn't obvious immediately xD
+ I thought there would be more mystery to the story, whereas we didn't really get an answer or even an idea of what actually happened. The end just felt a little empty. We had the idea of closure, but yeah, I just wish we found out what had happened!
I actually read this book in around 4 hours I would guess (last night and this morning) and I just couldn't put it down! Was definitely hooked!
My Rating – To see my book review rating guide click here.