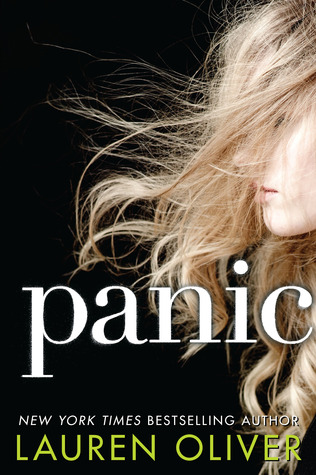 – Lauren Oliver
Summary:
Panic began as so many things do in Carp, a dead-end town of 12,000 people in the middle of nowhere: because it was summer, and there was nothing else to do.
Heather never thought she would compete in Panic, a legendary game played by graduating seniors, where the stakes are high and the payoff is even higher. She'd never thought of herself as fearless, the kind of person who would fight to stand out. But when she finds something, and someone, to fight for, she will discover that she is braver than she ever thought.
Dodge has never been afraid of Panic. His secret will fuel him, and get him all the way through the game, he's sure of it. But what he doesn't know is that he's not the only one with a secret. Everyone has something to play for.
For Heather and Dodge, the game will bring new alliances, unexpected revelations, and the possibility of first love for each of them—and the knowledge that sometimes the very things we fear are those we need the most.

My thoughts:
To begin with, I struggled to get into this book; I didn't quite 'get' the characters. I think I was around half way through the book when I really got hooked, and I finished it that same night at 1am!
I thought the idea of Panic was interesting, though also a little scary. I can't imagine something like that actually happening in real life – it's dangerous and it really affects the town as a whole, with some residents being targeted! Ignoring that fact, great idea for a story. Before reading, I thought the idea sounded pretty similar to the Hunger Games, and whilst I still think the general idea is quite similar (the main different being contestants don't HAVE to die xD) it definitely had it's own spin.
As I said above, the book was fairly slow for me up until the half way point. I couldn't quite get into it, which was a little disappointing to be honest. After the half way point though, I felt like the story picked up loads, and everything was just so fast paced from there. I loved being caught up in the game, wondering who the judges were and what was coming next. Full of surprises, despite me figuring out one thing pretty quickly!
I can't say I ever really connected with the characters, and I don't think they had much depth to them besides the game and the reasons for playing that were mentioned. To me, the book seemed more about the game than the chacters, and that's maybe why it took so long for me to get into it. Regardless, I enjoyed it as a whole, and I'm glad I had the chance to read and review it!
My Rating – To see my book review rating guide click here.

*Thanks to Bookbridgr for the review copy!