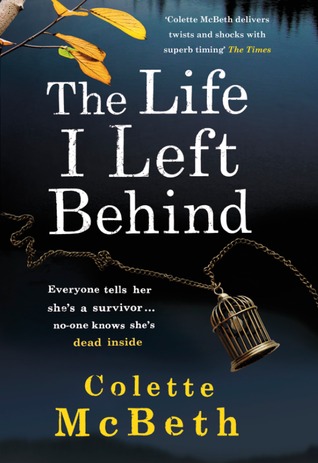 The Life I Left Behind – Colette McBeth
Series: n/a
Published: 2015, Headline
Genres: Thriller
Pages: 384
Format: Paperback
Source: Review Copy
Summary:
I'm the only one who knows the secrets her friends have hidden, the mistakes the police have made.
I'm the only one who can warn her she's still in danger.
I know exactly who attacked her.
He's the same man who killed me.

I only realised afterwards that I'd read Colette McBeth's 'Precious Things' a few months previously, so I went into this book not sure what to expect. Had I paid attention and made the connection, I probably would have been more excited!
The Life I Left Behind is told in three narratives: Eve, Melody and DI Victoria Rutter. Melody was attacked six years ago, Eve is dead, and Victoria is investigating Eve's death. I thought it was a little strange to begin with because Eve is narrating from the dead. It's as though her ghost is watching everything that is happening with Melody and the investigation into her death.
Although weird, I ended up loving this form of narration. When reading the book, you get a good sense of what is happening from all sides so you get the bigger picture. Labelled as a thriller/mystery, I think McBeth definitely achieved that with her writing! I was constantly guessing throughout, and I only discovered who the killer was right when the characters did. This, to me, marks the sign of a brilliant story. It's good to be kept guessing, and it makes me enjoy the story a whole lot more.
Besides the whole 'whodunnit' theme, we see a lot of Melody. We see how she has lived since her attack – post traumatic stress is weighing Melody down, but she's trying to hide it from family and friends. The lives of Melody and Eve collide, and everything seems to change. Was her attacker the same person who killed Eve? Did Melody's attacker actually walk free?
This book will leave you hanging onto every word.
My Rating – To see my book review rating guide click here.

Published 1st January 2015!
Buy The Life I Left Behind at the Book Depository website – free worldwide shipping.
– Any sales through The Book Depository will help to earn me a small commission –