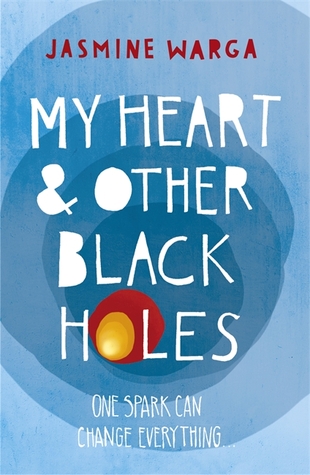 – Jasmine Warga
Series: N/A
Published: 2015, Hodder & Stoughton (UK)
Genres: YA
Pages: 320
Format: Paperback
Source: Review Copy
Aysel and Roman are practically strangers, but they've been drawn into an unthinkable partnership. In a month's time, they plan to commit suicide – together.
Aysel knows why she wants to die: being the daughter of a murderer doesn't equal normal, well-adjusted teenager. But she can't figure out why handsome, popular Roman wants to end it all….and why he's even more determined than she is.
With the deadline getting closer, something starts to grow between Aysel and Roman – a feeling she never thought she would experience. It seems there might be something to live for, after all – but is Aysel in so deep she can't turn back?
My Thoughts:
Another book about suicide? Yep. I think it's great to see the more serious issues in YA. My Heart and Other Black Holes gives us Aysel and Roman – two depressed teenagers who just can't face living any more.
Aysel's (It took me to the second pronunciation to really crack the name!) home life isn't great. She's living with her mother, stepfather and half sister but doesn't really feel part of the family. She used to live with her dad – until he killed someone.
Aysel goes onto a forum for suicidal people and meets Roman. Together they form a suicide pact, and the deadline is coming fast. This is a touchy subject, but I think Jasmine Warga did it brilliantly. Now I have never had any personal experience with depression, and I wouldn't ever say that I completely understand what people with depression go though, but I could feel Aysel's struggles. As an intelligent girl, particularly interested in physics, her thoughts and actions really helped me to understand why she wanted to die. The way she spoke about it, and even relating things to physics and Einstein's theory of relativity really helped us to understand where she was coming from.
Roman is equally as troubled, struggling to deal with the death of his younger sister. He blames himself and feels like the only way to make things better is if he dies too. I liked Roman, although you could say that he was a little selfish at times because he worried a lot about Aysel 'flaking' on him. He need her, and she needed him, though neither of them expected it to be in the way that it was. Their relationship was a hit from the beginning, and though it was a strange circumstance, it worked. They had fun together, they had meaningful conversations, they supported each other – they did everything a friend would. They were still young teenagers, and we could see that in the writing.
It wasn't all sad though – I think I smiled, laughed and cried throughout reading. This book was just written so beautifully. I think the really, really great part was the acceptance of help at the end. Seeing Aysel's thought processes change as the story went on was just so perfect, and really got to me. We see her progress so much, and that's always good in a character. I think Roman progressed too, but not quite in the same way.
My Heart and Other Black Holes is really about finding yourself. Looking for that thing that keeps you living and moving forwards. Life can get tough, but with support around you, life can be beautiful. In the end, it's all about hope. Finding that hope.
My Rating – To see my book review rating guide click here.

This is Jasmine Warga's debut novel, and shows that she is an author to watch. I'm definitely looking forward to reading the next book she writes!
My Heart and Other Black Holes is out on the 10th Feb, so do not miss it!
I am also taking part in the blog tour and will have an interesting piece about writing for YA from Jasmine Warga herself coming on Saturday, so watch out for that!