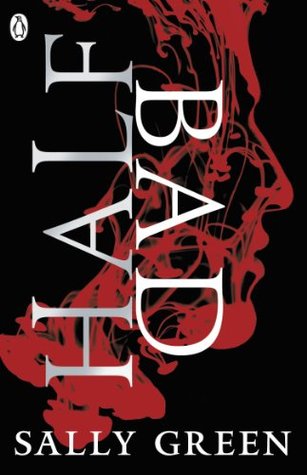 Half Bad by Sally Green
Series: The Half Bad Trilogy #1
Published: March 27th 2014, Penguin
Genres: Fantasy, paranormal
Pages: 380
Format: Paperback
Source: Bought
Summary:
Sixteen-year-old Nathan lives in a cage: beaten, shackled, trained to kill. In a modern-day England where two warring factions of witches live amongst humans, Nathan is an abomination, the illegitimate son of the world's most terrifying and violent witch, Marcus. Nathan's only hope for survival is to escape his captors, track down Marcus, and receive the three gifts that will bring him into his own magical powers—before it's too late. But how can Nathan find his father when there is no one safe to trust, not even family, not even the girl he loves?

The Good:
+ I don't remember the last time I read a book about witches, so I was really excited for this one and overall, it didn't disappoint.
+ Nathan was likeable. I felt sorry for him throughout the book as his like was difficult. He was different, he stood out and he had a hard fight ahead. I loved the relationships that he had – the brotherly love between him and Arran, the forbidden love between him and Annalise and the difficult relationships between him and Celia and Gabriel. I actually really liked all of the characters. They all made me feel something different as I was reading.
+ The witch gifts. I really liked how each of the witches had their own gifts and I actually loved the fact that female witches were generally more powerful. Yep, I loved it. It was interesting to see how the gifts that they had were reflected in the characters, and one that really stood out to me was Nathan's sister, Jessica.
The Bad:
+ Chapters written in second person. This is how the story began, and I was a little scared to be honest because I couldn't get into it at all. Thankfully, we were soon taken to first person narrative and everything went upwards from that point on! There was another random chapter in second person, which threw me a little (was then a little scared that we'd be alternating a lot!) but luckily that was it. This was the reason I gave it four stars instead of five. For me, the beginning should draw me in and the beginning of this book was the worst part!
+ The ending – a huge cliffhanger in my opinion! I mean, there's stuff we need to know, you can't just finish there! I definitely need to pick up the next one when it is published in early 2015.
My Rating – To see my book review rating guide click here.

Buy Half Bad at the Book Depository website.
– Any sales through The Book Depository will help to earn me a small commission –
*Thanks to Hodder Paperbacks for the review copy!