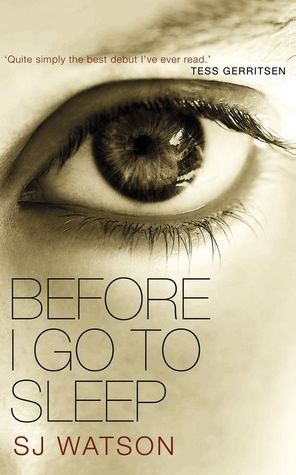 – S.J Watson
Summary:
'As I sleep, my mind will erase everything I did today. I will wake up tomorrow as I did this morning. Thinking I'm still a child. Thinking I have a whole lifetime of choice ahead of me…'
Memories define us. So what if you lost yours every time you went to sleep? Your name, your identity, your past, even the people you love — all forgotten overnight. And the one person you trust may only be telling you half the story.
Welcome to Christine's life.

My thoughts:
Where to start? I'm usually pretty good at guessing things, and knowing where the story will go. I was almost there, but was not expecting the huge twist. Nope, not even slightly. That, to me, is the sign of a brilliant book. Constantly guessing and wondering what's going to happen.
Reading the synopsis, I thought okay, sounds interesting. I can't say I was really excited to read it, but my mum had finished it and was urging me to read it. (That may also have been to do with the film being out and wanting to watch it!) Now I love a good crime/thriller, and I haven't read one in a good while so I immediately got into this book. The storyline is just so interesting, I was hooked from the get go!
A character losing their memory isn't a new idea, and has been done plenty, but a character that loses their memory every time they sleep just hasn't been done (as far as I'm aware!) and I loved the idea. It's kind of scary really when you actually think of what Christine was going through each day, not even knowing if her husband is telling her the truth or hiding things. That, for me is what really made the story. It was full of mystery and I looked forward to reading about each day to see what she would be told or remember. As the story got deeper, we found out more information and the whole scenario felt really chilling. Something was definitely not right.
Since reading this, I have watched the film adaptation and I was incredibly disappointed. They changed so many of the small details, and even some big parts. I was not happy! I would recommend that you either read the book and ignore the film, or vice versa. Wouldn't recommend doing both!
I loved this book so much I gave it 5 stars, would definitely recommend!
My Rating – To see my book review rating guide click here.

*Thanks to Bookbridgr for the review copy!