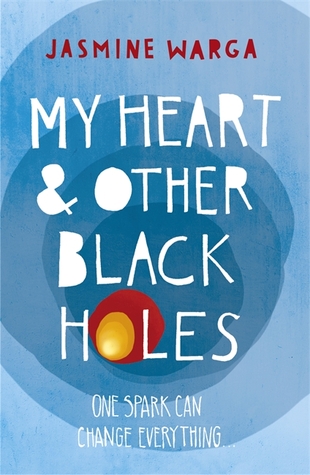 Today I have a special guest piece from Jasmine Warga, author of My Heart & Other Black Holes!
Now I really loved this book, and I thought it was amazingly written for a debut book! My Heart & Other Black Holes is based around two teens with depression, and their way of coping with it. It made me smile, laugh and cry and it's well worth a read! You can find my full review here!
YA is probably one of my favourite 'genres' at the moment, because I can often relate a lot to the characters within. Here Jasmine has kindly written a piece about YA fiction, and why she chose to write for the YA community!
——————
" I think I'm really drawn to YA fiction because of its immediacy. YA fiction is all about the exploration of feelings, and it's that sense of emotional discovery that very much appeals to me as both a reader and a writer. I also think that the questions you grapple with as a teenager such as "Who am I?" and "What do I want to do with the rest of my life?" and "Is this really love?" are questions that never actually go away, and so I truly believe readers of all ages can find something to relate to in YA novels. We are all always striving to figure out our "true" selves, all always searching and exploring and learning new things—in a sense, I really believe that we are all always coming of age. Life is a journey full of firsts and YA fiction celebrates those firsts and I love it for that.
Furthermore, I know I'm biased, but I think YA fiction has the best readers. Our readers are so passionate and emotional and love to talk about books. I'm constantly inspired by how deeply YA fans read and how they respond to books at such a visceral level.
Finally, I feel like we've reached a place in YA now where we are going to see more experimentation, more pushing the boundaries of what exactly defines a YA novel, and I'm really excited to see where that will go. And to be a part of it. "
——————
'A striking new voice in YA fiction'
– Nova Ren Suma, author of Imaginary Girls
'Kinetic and beautiful and unexpectedly life-affirming'
– Chris Lynch, author of Inexcusable
Published by Hodder & Stoughton
12th February 2015, Paperback, £6.99
————————————————————————————————————
Jasmine Warga lives in Mariemont, Ohio with her husband, Greg, a cat named Salvador Dali, and a puppy named Scout. She was born and raised just outside of Cincinnati, and spent her days making up stories, listening to emotive music, staring up at the night sky, and reading. She graduated from Northwestern University with a B.A. in History and Art History, and went on to teach 6th grade science at a school in Houston, Texas. In June 2013, she received a Master's in Fine Arts in Creative Writing from Lesley University. My Heart and Other Black Holes is her first novel.
————————————————————————————————————